Modern high-pressure diesel fuel systems require the application of advanced diagnostic devices. Trying to be constantly able to provide high-quality and comprehensive services in the field of repairs of diesel engine, or their fuel systems, we have equipped our repair shop with state-of-the-art technology for testing and inspecting BOSCH injectors and high-pressure pumps designated EPS 708.
The EPS 708 test station is currently one of the best product among professional diagnostic equipment used to inspect and repair injectors as well as modern Common Rail system pumps . Using the test bench, we can perform a professional inspection of the technical condition of used or repaired injectors and pumps made by BOSCH, DELPHI, DENSO a CONTINENTAL (former SIEMENS VDO).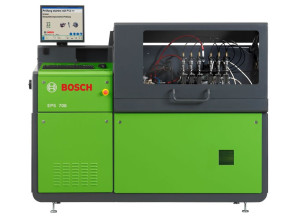 The inspection results are then documented in the form of an output protocol, objectively documenting the technical condition of the inspected part.
The timelessness of the diagnostic station from the renowned manufacturer BOSCH lies in its prudent fitting with a high-pressure ramp capable of withstanding pressures of up to 2,500 bar , being also a preparation for injection systems that will only begin to be used in series in the near future.
In addition, our company also owns the HARTRIDGE diagnostic bench, which is the only one approved by Delphi for inspecting and generating C2I, C3I codes.
Key Features:
printing of protocols from individual tested injectors
testing the CR injectors according to exact rules
coding Delphi injectors C2I, C3I codes through Delphi IRIS program
testing the injector coil resistance
testing the injector proper functioning and response